Time of this schedule is from May 12, 2008 to October 27, 2008. There should be at least 10 participants and at most 15 in the group, group will be once every 2 weeks, group will not be opened if participants are less than 10 persons and that will be postponed to next time when participants is at lest 6 persons. We will let you know by email 28 days before group opening that you prefer and tell you if the group will be opened on time. Please do not make reservation of air ticket before getting our notice. You should manage your passport and visa by yourself.
2008 schedule start with:

10/13/2008
10/27/2008

Price: 948 USD

The price includes Services Content:
Tuition, handouts, 8 nights Three-star hotel (standard room), 3 weekdays evening shows, weekend sightseeing, admission tickets, 1 banquet, meals (7 breakfasts, 5 lunches and 4 dinners), 1 massage, bus, translation.
Note: If you want to have single room, please add extra $200 for totally 8 nights.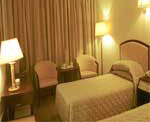 The price dose not include:
1. Air ticket
2. Transportations fees to the training center/hotel, or to airport.
3. All personal expenses such as phone bills, laundries, etc.
4. Extra costs for extension stays, e.g. hotel.
5. The weekend lunches and dinners
6. Gratuity for tour guides and drivers.
7. Optional tours and excursions.

Studying:
Studying Time: Morning: From 8am to 11am; Afternoon: From 1:30pm to 4:00pm (30 minutes break)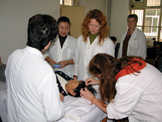 We offer you experienced clinical doctors, famous professors and skillful interpreters. Studying group with at most 15 participants and practice group with at most 4 students will bring you more chance to practice and study TCM.
When the training finishes, we will issue training certificate. (Certificate is delivered by China Beijing International Acupuncture Training Center that is a WHO Collaborating Center (only three centers in China) for Traditional Medicine and a professional acupuncture training organization authorized by the China State Administration of Traditional Chinese Medicine).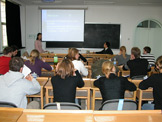 Weekdays evening shows and weekend sightseeing
:
A translator and bus will be with you to visit famous travel attractions.
The Forbidden City
The Forbidden City has served as the royal residence during the Ming and Qing dynasties, it is a world-famous historical site. Forbidden city is on the World Heritage List of UNESCO and is an embodiment of oriental civilization.

The Great Wall
The Great Wall, like the Pyramids of Egypt, the Taj Mahal in India and the Hanging Garden of Babylon, is one of the great wonders of the world. Starting out in the east on the banks of the Yalu River in Liaoning Province, the Wall stretches westwards for 12,700 kilometers to Jiayuguan in the Gobi desert, thus known as the Ten Thousand Li Wall in China. The Wall climbs up and down, twists and turns along the ridges of the Yanshan and Yinshan Mountain Chains through five provinces--Liaoning, Hebei, Shanxi, Shaanxi, and Gansu--and two autonomous regions--Ningxia and Inner Mongolia, binding the northern China together.

Summer Palace
Summer Palace Has the largest royal park and being well preserved as a Key Cultural Relics Protection Site of China. Containing examples of the ancient arts, it also has graceful landscapes and magnificent constructions. The Summer Palace is the archetypal Chinese garden, and is ranked amongst the most noted and classical gardens of the world. In 1998, it was listed as one of the World Heritage Sites by UNESCO.

Beijing Opera (or Peking Opera)
Beijing Opera has existed for over 200 years. It is widely regarded as the highest expression of Chinese culture. It is known as one of the three main theatrical systems in the world. Artistically, Beijing Opera is perhaps the most refined form of opera in the world. It has deeply influenced the hearts of the Chinese people. The charm of Beijing Opera lies in the comprehensive form of stage art. It is an organic combination of script literature, the performing techniques of "singing, reciting, dance-acting and acrobatics", music, painted-face make-ups and costumes, and so on.

Acrobatics
Chinese acrobatic show has long history and will bring you to magic world.

Beijing Roasted Duck
There is a saying here : if you do not visit Great Wall and try Beijing Roasted Duck, you are not in Real Beijing. So Beijing Roasted Duck is so delicious and charming.
Tea House
Tea house will introduce different teas in China and show us how to drink ,then we have chance to taste different charming teas.

Note
:
We also offer tailored 7 days training program:
The course is designed according to the requirement of participants.
There are at least 10 participants required.
All of participants must agree with the same plan, and follow it.
The tailored 7 days training program will cost more than the standard plan. The price will depend on their requirements.
Full payment must be received at least two months ahead for everyone in the tailored group.
Terms of Service
Full payment must be received one month prior the training course starting, otherwise the reservation is automatically cancelled.
For cancellations received beyond 7 days prior the training course starting, $100 cancellation fee per person will be charged. A handling fee of $50 per transaction will be charged for any alteration or revision made to a reservation.
Failure to participate in the training program is considered forfeit. There will be no refunds.
Responsibilities:
Opentcm will be exempt from any liability for loss or damage to property, injury of persons, accidents, delays, irregularities or other occurrences beyond its control. Every effort will be made to adhere to the published plan. Opentcm reserves the right to alter any plan at any time based on local conditions, and will not be responsible for losses incurred due to unforeseen circumstances. Opentcm reserve the right to adjust the listed price at any time for any reason. However, we will not adjust prices once your course has been fully paid or confirmed. Participants should strictly abide by the laws and regulations promulgated by Chinese Government. Opentcm will not take responsible for any and all penalties due to any regulations of Chinese Government. To ensure the desired synergy, Opentcm reserves the right to accept, reject or expel any individual who is deemed disruptive or incompatible with the interests of the group. All expenses to do so will be borne by the person.
Application

Fill Application Online Form
Please fill in the application online form at
here